December 13, 2013

This Day in History
The U.S. Mint began stamping the Susan B. Anthony dollar, the first U.S. coin honoring a woman.
RELATED ACTIVITY
(Gr. 3–12)
Daily Warm-Ups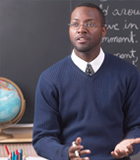 Funbrain Games
Tip of the Week
Effective learning takes place when students receive immediate and specific feedback on their performance.
MORE TEACHING ADVICE
Today's Birthday
A Canadian painter, Carr is beloved as a feminist icon in her native Canada and credited with bringing modern art to the Americas. Though less well-known in other parts of the world, including the United States, Carr is celebrated for her paintings of totem poles and other objects of the native peoples of British Columbia.
RELATED ACTIVITY
(Gr. 9–12)
Today's DK Clip Art
Enhance classroom and homework activities with DK's famous photographs. Download the clip art to include in school projects or embellish just about anything!
VIEW FULL-SIZE IMAGE
Related DK Books

Gr. 5-8
A look at the world of birds

Gr. 2-5
Reveal animal & plant life deep in the woods